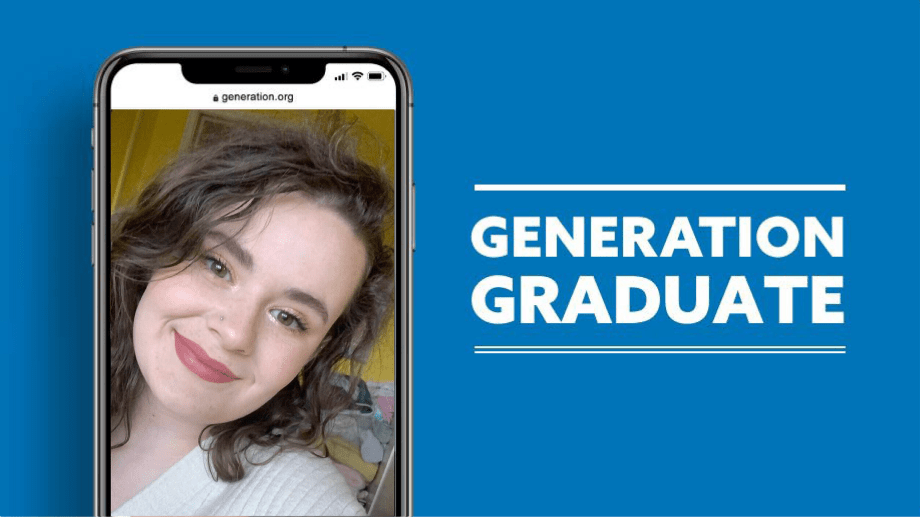 Zöe | Dublin
Zöe graduated from Dublin's first Generation programme, AWS re/Start, in February 2021. Hear more about her journey from uncertainty to Generation and beyond!
Lost and found
Before the programme and before 2020 happened, I was doing a degree in physics. But because of everything that happened last year (COVID-19 pandemic), I realized I didn't want to do a very practical degree online, so I decided to take a year out.I didn't have anything to do after I made that decision and I was looking for part time work anywhere that would take me – like the petrol stations, Tesco. I was like "please someone take me", then my friends recommended the link they saw on Spunout.ie for the application to the course. And I was like, why not? It was very practical, will keep my mind going and add something that can be transferable. 
The AWS re/Start bootcamp with Generation
The Generation experience has definitely been a whirlwind. There've been a lot of ups and downs, but it has been an amazing experience overall that couldn't be done without this cohort [of learners]. We had a team building experience and just like we came together and there was such a sense of comradery, but definitely learning all the technical skills. It was a really dynamic environment to be put into.
The course structure [was organised] with classwork from 9:00 to 3:30  and then we would do the rest of our independent learning and assignments until five. So that was very much like secondary school. It was a bit scary in the first few weeks to try and get back into that routine. You had to make sure you were on top of everything. 
Better than a paid course
I think Generation was a good choice for me because I work really well in a team setting, but also just the support that's available is incredible because everyone knows you can do these kind of courses online. But you need to pay a few hundred Euro and you just go off and work away, work away, work away. But the fact we have the likes of Grace, our technical instructor, and Jenny, our mentor to be there, to ask any questions on the technical stuff and make sure we have it down to a T, we actually know what's going on and we, we know everything you need to know and like a bit more. So it's like we are very much on track for what we need to know to go into these potential jobs. And then Jenny, the love of my life. Like just helping us throughout the entire programme because it's like a 12 weeks full-time course, like it's pretty intense. Like it's like going back into six or leaving cert and it's boom, boom, boom. And she's just there to like qualm all your worries and to make sure no one's too stressed. She's a lifesaver for the course. Definitely.
To infinity and beyond
The impact the course has had on my career is astronomical. Before all of my prospects were either go back and finish my degree, which was in an unrelated field or work part-time or full-time and a retail job that didn't require a set amount of skills in one area or not. After the course, I know now that I can go into any cloud computing field or career, which if you told me 12 weeks ago, I would not believe you. I just thought this was something I could do for 12 weeks to try and pass the time. But actually now coming out of it, the prospects are there. And like, it's very likely that something could happen, which is exciting and a bit scary, but I definitely my career is on a different level than it was before.
The best employee you can be
I would definitely recommend any Generation course for people who think they want to reskill, especially in this current environment where there's not much else to be doing.  Jobs aren't really what they were. The skills you learn on the bootcamp are so applicable to any job you could go to the field. So you have your technical skills, but also at Generation they really push on the soft skills. So the growth mindsets, the perseverance, just making sure that you're a well rounded person. So not just that you have the technical skills, but you also have the soft skills to go with it, to make you the best employee that you could be.
A fresh start
In April 2021, Zöe accepted a role as a Tech Recruiter with a tech recruitment organisation, ready to start in May 2021!
Interested in joining our AWS re/Start programme? Applications are now open: Apply now!