Generation and Nando's Restaurant launch new program in D.C.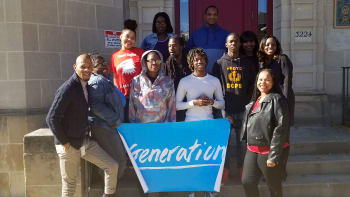 Program will offer hands-on guided experiences to bridge the gap between skilled training and employment for youth in the restaurant industry
Generation is partnering with Nando's restaurant to launch a new skilled training program for youth and unemployed adults interested in becoming a front-line restaurant employee like hosts, cashiers, and food runners. The pair will also offer management training to supervisors already employed by Nando's. After completion of the entry-level program, students in good standing will be guaranteed a job with the company. The new and one-of-a-kind program is free for students and started in late October.
The partnership, launched on October 22, aims to reach nearly 200 individuals in the D.C. area in the first year. Generation will host the program at the Latin American Youth Center where students will learn a variety of technical and soft-skills including professionalism, safety, good customer service, and communication skills. They will also receive a weekly stipend during the three-week program.
"Nando's strives to be a place where everyone is truly welcome! Partnering with Generation allows us to be intentional about that by offering opportunities to learn new skills or building on existing ones as part of our Nando's family," said Kyla Nave, director of people and culture at Nando's. "We look forward to the success our partnership can bring to the business and most importantly to our ability to connect with and grow great talent!"
Generation's unique curriculum methodology allows for the development of a role-specific training program focused on the technical and employability skills needed so that young people are poised for success in a career-launching role. Generation aims to develop skills, shift mindsets and truly prepare individuals for the realities of a new role. Students will be considered employees of Nando's and will have the potential for advancement within the company.
"While developing the FOH Nandoca and manager curriculums for Nando's, we had the pleasure of shadowing high-performing managers and Nandocas, and interviewing staff over several days to learn about what have been the keys to their success at Nando's," said Generation Global Curriculum Designer Jennifer Decker Mehta. "We met individuals at the management level, who started working at Nando's in the entry-level roles we're training for in one curricula. Thanks to their ambition and support from their managers, as well as the people-first culture at Nando's, these individuals have built thriving careers. This partnership is exciting because these are exactly the pathways we want to provide Generation graduates."
For more information about the program, please visit, generation.org/restaurantservices