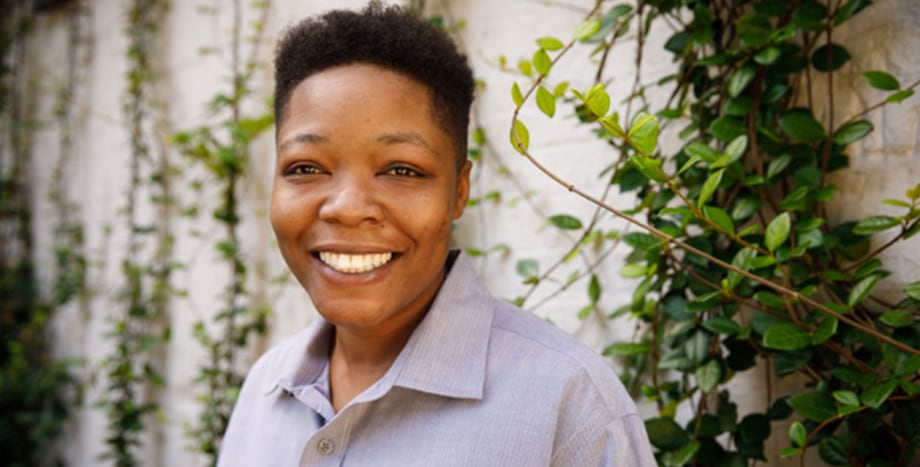 Quartx | Jacksonville
A few weeks into the Generation program, Quartx felt like giving up. Life had been challenging her lately, and she was feeling defeated. But the Generation staff noticed and offered encouragement and advice, and that gave her the boost she needed to continue on.
"I was like, I came this far, why would I stop?" she recalls. "It would be a waste of their time and mine. And I really wanted this; I really, really did. There's a lot of things I want to do that I still can do, and I don't feel like anything should hinder me. That's why I came to the Generation program."
So, when the program required Quartx to show up for a mock interview session at Walmart, she prepared the night before and arrived early. But she didn't expect the mock interview to turn into a real one—or to get hired on the spot.
"I wasn't in there looking for a job," she says. "I went and did what they taught me in the program. I did the interview, and before I could leave class that day, I had a job."
A change in perspective
Walmart assistant manager Kim Hayman saw the potential in Quartx. "I look for an individual who really wants to make a positive impact within my company and within themselves," she says. "A good employee is someone who comes to work with positive attitudes and helps others and shows good leadership skills. Quartx is an excellent employee. She is a good leader and self-motivated."
Quartx now works in the frozen and dairy departments at Walmart. "I know them by heart," she says. "And where I'm working, there are so many advantages to move up and move around that it's crazy."
It's a big change from her life before Generation. The mom of three was unemployed and didn't see a lot of potential for herself out there.
"I probably was headed nowhere before I got in the program," she says. "I have grown a lot since this program. This changed my whole attitude and perspective. Had I not come to this program, I don't know where I would be right now."
In a better place
Quartx knows she was going "the wrong way" before Generation. "It taught me how to handle a lot of situations better," she says. "I am in a better place."
She now has dreams of one day being a chef, whether at her own restaurant or someone else's. "I like to cook," she says. "And I can barbecue. My dad loves my barbecue; he will literally pay me sometimes to barbecue."
She thinks her experience in Generation will help her succeed in both her current job and any future endeavors she takes on. "You've got to believe in yourself," she says. "Walk with your head held high. If you want to do better, you've got to act better sometimes. And the only way you're going to get there is if you do it yourself. Generation is life's best friend. I know a lot of people that probably came into this group with me who didn't expect to get what they got out of the program. But we got a lot out of the program."
Kim Hayman has gotten a lot out of it too. "I chose to partner with Generation because the people in my community are important to me, and I want them to be successful," she says. "I would definitely encourage other companies to work with Generation. A small investment within our community is well worth it."