Meet our new Partnerships Director: Ronan Connell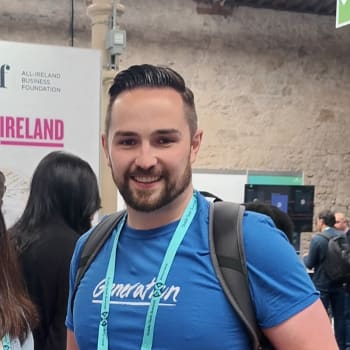 We are delighted to announce that Ronan Connell joined our Generation Ireland partnerships team in early May. As part of his role, he will be focused on expanding our client relationships and maximising the opportunity for our learners to secure employment post-programme. Here's 5 mins with Ronan, to get to know him a little better: 
Tell us about your career to date?
Like most people, I fell into the world of recruitment by chance and never really looked back. Recruitment is an amazing career choice and the aspect that I loved most was that no two days were ever really the same.
I have always enjoyed helping people and so much of recruitment is focused on helping candidates with difficult decisions, inspiring them to believe and ultimately helping them with major life goals.
People think that it is just a case of finding a CV and sending it to the client – but you are acting as a life coach, motivator and so much more on a daily basis. You really do get invested in the success of all your candidates and clients and seeing the right outcome for both parties is really rewarding.
From early on in my career- I realised that I enjoyed coaching/mentoring within teams – so much so that I decided to take a leap of faith and go down the route of upskilling my leadership abilities and leading my own recruitment teams. More recently, I managed a startup business in Ireland growing the team out from scratch to a size of 6 working across various specialist tech verticals.
It was in this role that I became more heavily involved in the DEI space and acted as a thought leader here for several years. This included hosting webinars, podcasts, meet-ups, mentoring with charities and this became a real passion of mine trying to drive change and break down inequalities here in Ireland. And that is why, I ultimately decided to join Generation and make this my full-time role.
Why Generation?
As I alluded to above – I have a real passion for helping people. Throughout my career, I would have met some amazing people and helped so many people secure new roles.
However, the candidates that always stayed in my memory are the ones that had fallen on hard times, couldn't catch a break or who took some time out to care for relatives and found it hard to get back into employment. Helping the individuals that just needed another chance was always the most rewarding and memorable. It was life changing for them.
I have had an amazing career to date and have been so fortunate to work for some amazing companies that trusted me, took a chance on me and developed my own skills but the pandemic did make me self-reflect and I wanted to do more in the short time that I have on this earth to drive real change.
I always remember learning about "Maslow's Hierarchy of Needs" in school. The top of the triangle is Self-Actualization and for me that is what Generation is for me. It's the opportunity to try and break down barriers in Ireland and change future generations whilst fulfilling my own desire to have more meaning in my own career.
I see Generation as an "education disruptor". Silicon Republic reported that the vast majority (92pc) of employers said they have experienced skills shortages in the past year. We do have a major supply issue in the tech sector in Ireland and that's where I see generation coming in to disrupt.
With rising accommodation costs, the change in working arrangements and higher unemployment in some sectors post pandemic – we need to be doing more to drive people towards tech roles with the talent we already have in this country.
Here at Generation, we remove all the usual barriers to employment – (cost, equipment, child care, previous education) and give every individual a level playing field. We deliver meaningful, life changing opportunities to under-represented groups and I think the work done to date and the amazing stories from our current partners/graduates is truly inspiring.
I am really excited and raring to go with Generation Ireland and I am really looking forward to helping Irish companies with their own DEI goals over the coming years and expanding long term partnerships for Generation Ireland.
Where did your passion for Diversity, Equity and Inclusion come from??
I am a firm believer that you are a product of your own environment and what you have experienced to date in your life plays a pivotal role in shaping your beliefs, values, habits etc into the future. This can be both positive and negative. The beauty though is that everyone has untapped potential / underutilised abilities and with the right support and opportunity- everyone has the ability to positively change their own future. What has been the past doesn't have to be the future.
I grew up in what some would call "a working class area" in West Dublin. To me, it was just home, and we had a real sense of community, and everyone looked out for each other. Amazing characters and amazing people in the area and I was fortunate to have grown up in that environment where hard work/discipline was instilled in you from a young age.
I would say though that because of having a strong Dublin accent and a certain postcode, that I had to work a little harder to get where I wanted to go career wise. You did have a sense of doubt and an inferiority complex, and you felt you had to win people over before you were taken seriously.
Dublin is an amazing city, and it has amazing people, but it is so evident that inequality exists across the board and with the changes in our economy, our housing crisis and rising cost of living – more and more people are being pushed to breaking point and I think the gap is widening.
Another pivotal aspect of my formative years was my mother's profession. She worked for Stewarts Hospital for over 40 years in Dublin. It is an amazing care centre for people with intellectual disabilities and from a young age, I would have been raised in that environment and made some close friends who are service users there. I think it really shaped my protective nature of those who are more vulnerable, and it really showed me how with the right support and care you can bring out the best in every individual.
If you wish to speak to Ronan- reach out via email: ronan.connell@generation.org or linkedin https://www.linkedin.com/in/ronan-connell/