Generation launches new Caesar's Casino training program in Baltimore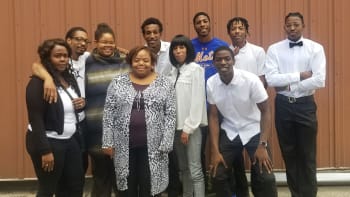 Generation's first entertainment training program will offer hands-on guided experiences to bridge the gap between skilled training and employment for youth in the casino industry.
Generation is partnering with Caesar's Horseshoe Casino in Baltimore to launch a new skilled training program for youth and unemployed adults interested in becoming a table games dealer. After completion of the program, students in good standing will have an opportunity to interview for a position with the Horseshoe Casino. The new and one-of-a-kind program is free for students and will take place on Horseshoe's campus.
"Generation is thrilled to expand on our U.S. programs in Baltimore, partnering with a major employer in the area, Horseshoe Casino," said Generation US COO Sean Segal. "The need for table games positions is enormous and the growth opportunities students have with the Horseshoe Casino are endless. Thanks to their partnership, our students are offered conditional employment upon entry of the program and a $500 bonus upon hire. It's a win-win for everyone."
This is Generation's first partnership in the entertainment industry. Launching on October 15, the program aims to reach nearly 100 young adults during the launch phase. Horseshoe will host the course on campus, providing direct experience with table games like Blackjack and Carnival games to create quality output. Generation will also offer students support to develop skills related to professionalism, safety, math and communication. Students will also receive a weekly stipend during the five-week program.
"We believe that Generation will help strengthen our table games offering and connect the local community to exciting new career opportunities," said Erin Chamberlin, Horseshoe Casino Baltimore's Regional President. "Recruitment of high-end talent into our dealer academy will better position our property to meet long-term goals and provide customers with an exceptional product on the gaming floor."
This profession requires multitasking, quick mental math, hand eye coordination, and strong interpersonal and communication skills. Generation's unique curriculum methodology allows for the development of a role-specific training program focused on the technical and employability skills needed so that young people are poised for success in a career-launching role. Students will be considered contingent employees of Horseshoe Casino and will be paid $10 per hour for attending class, a Maryland Gaming License and a $500 bonus if they're hired after graduation.
"As part of our curriculum development planning, we spent several days at the Horseshoe Casino Baltimore property shadowing and interviewing casino dealers and management teams," said Generation Global Curriculum Lead Kelly Cassaro. "We came away from the opportunity with valuable data to serve as the backbone to the development of an integrated training program to graduate high-potential casino dealers who we believe will bring tremendous value to their employer. These graduates will deliver an exceptional experience for their guests, and launch themselves on a rewarding career path."
For more information about the program, please visit, generation.org/casinodealer.