$8 million investment from IKEA Foundation to train and place young workers across Kenya and India
Generation is supporting 47,000 marginalized young people in India and Kenya by training and placing them in career-launching jobs. It is also modeling an approach which seeks to positively influence systems for training young people in both countries.
Research estimates that between 20 and 40% of young people in Kenya and India are unemployed. At the same time, employers report many entry-level jobs are left unfilled. In partnership with the IKEA Foundation, employment nonprofit Generation aims to reduce this gap over the next three years, all while proving a replicable model that can positively impact skills and labor markets in both countries.
With the $8 million grant from the IKEA Foundation, Generation will recruit, train, and place 47,000 marginalized young people (aged 18–29) in jobs in India and Kenya over three years. Participants will join bootcamp-style training programs and receive social support like transportation, childcare, and mentorship during the program and their first months of work. Programs are currently offered in industries like healthcare, hospitality, financial services, and skilled trades, with a plan to expand into new roles over the course of the partnership.
"We are thrilled to have the support of the IKEA Foundation to help young Kenyans and Indians transform their life trajectories through employment" says Dr. Mona Mourshed, President & CEO of Generation. "The ripple effect of this step-change in their income has the potential to impact the well-being of families and entire communities."
Per Heggenes, IKEA Foundation CEO, said: "We are partnering with Generation because we want young people in Kenya and India to have the chance to develop marketable skills, find sustainable jobs and grow their incomes. With these incomes young people can support themselves and their families by paying for healthcare, education and a safe home. That is why we invest in programmes that create systems change, addressing the barriers young people face when it comes to earning a living and enabling them to build better futures."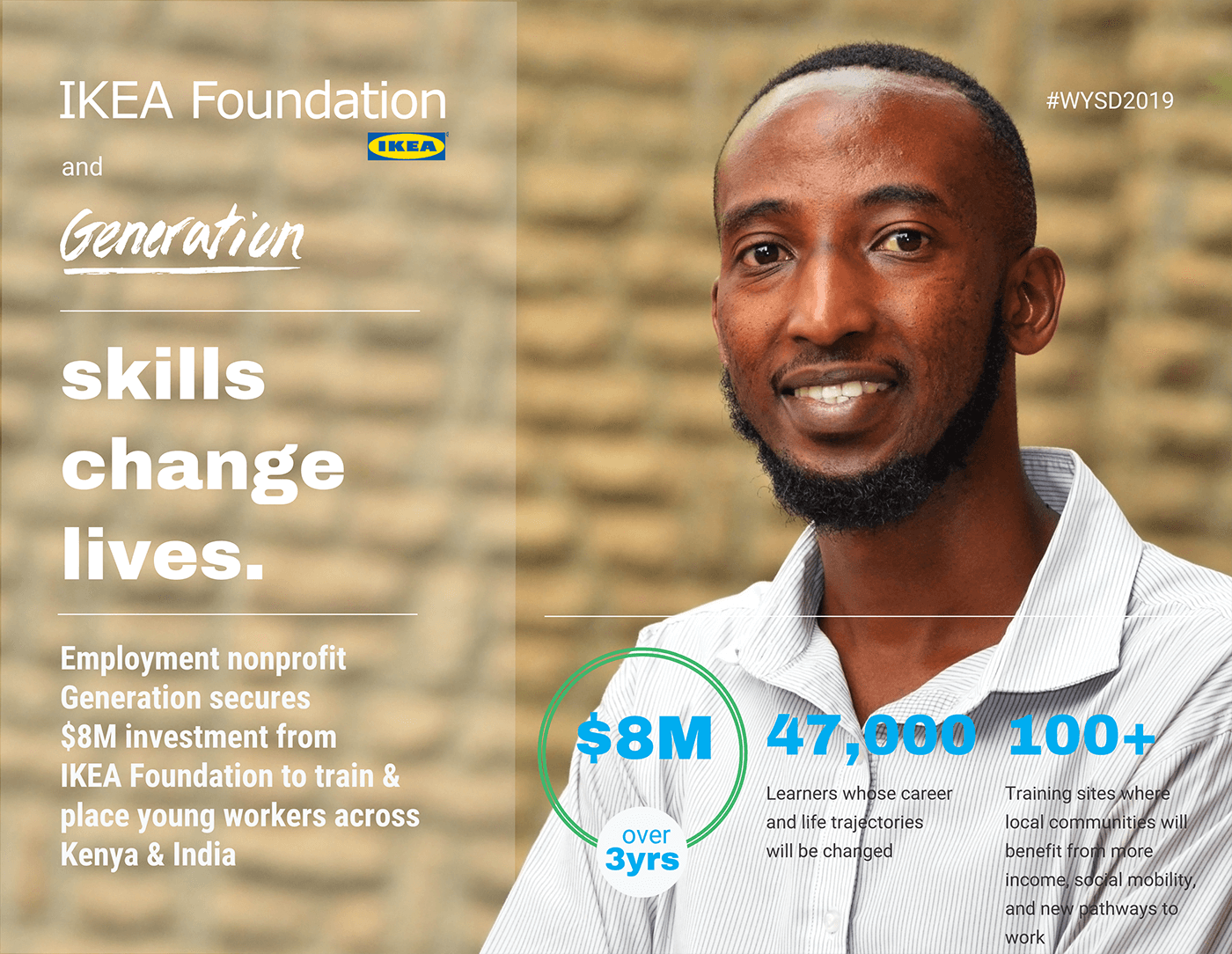 Generation, which is currently the world's largest, demand-driven youth employment program by annual volume, has well-established programs and experienced teams in Kenya and India, with more than 21,000 graduates already across the two countries.
For all of Generation's programs, the organization rigorously tracks the return-on-investment for both learners and employers. Young people benefit from increased income, valuable technical and behavioral skills and long-term career growth opportunities. Employers benefit from reduced recruiting costs, better on-the-job performance, and higher employee retention.
Potential partners, employers, participants, or others interested in learning more should contact Generation at info@generation.org